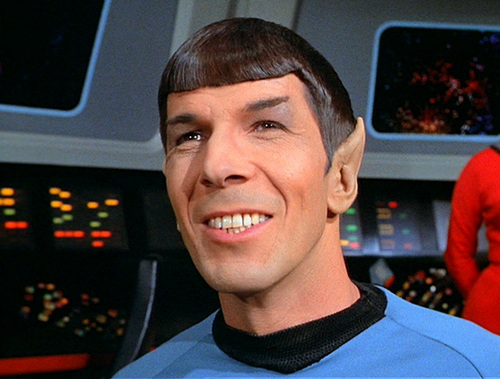 I learned it on the way home, stuck in traffic, because of the snow. 

Leonard Nimoy, actor and

balladeer of Middle-Earth

, died this morning of end-stage COPD at the age of 83. 
This one's a real bummer for me.
I started getting into Star Trek when I was about 10, partially because of the show being on in syndication on KTXA-21 after school but mostly thanks to the Pocket Books trade paperbacks and the two point-and-click adventure games released for MS-DOS, Star Trek: 25th Anniversary and Star Trek: Judgment Rites. The latter game especially rests securely among my top five video games of all time, and the way in which it favored logical, diplomatic solutions over volatile emotion and brute force influences the way I attempt to resolve relationship conflicts in my own life to this day.
At the middle of that calm, cool, collected logic is Spock, the logical yin to Kirk and McCoy's brash yang. He was always the most fascinating (to use his word—it is, I think, a word that somehow "belongs" to him) character of the original series to me and my way of thinking, and he actually was as smart as I thought I was. I'm not sure if the picture I used above is a goof or if it's a part of an actual episode, but it fills me with joy, just like Nimoy did any time Spock brought his even keel to a tense situation. I like to think of myself as a laid-back person, but I can easily show an explosive temper, and although Spock definitely has more control of himself than I do, I still found his struggles relatable.
It's looking increasingly like I'm going to be stuck at home tomorrow on account of inclement weather. I still own one of the old Pocket Books novels—number 50, Doctor's Orders, by Diane Duane. It's not primarily about Spock, but something tells me I'll be paying the most attention to his parts.
Because it's semi-relevant, here's the trailer for Judgment Rites. I think I might have to play that again too. It's a 10/10 game if ever there was one.
He was, and always will be, our friend. I'm going to miss him.